As life has almost come to a halt due to shutdowns triggered by the coronavirus pandemic, lower income people across the country are left to languish.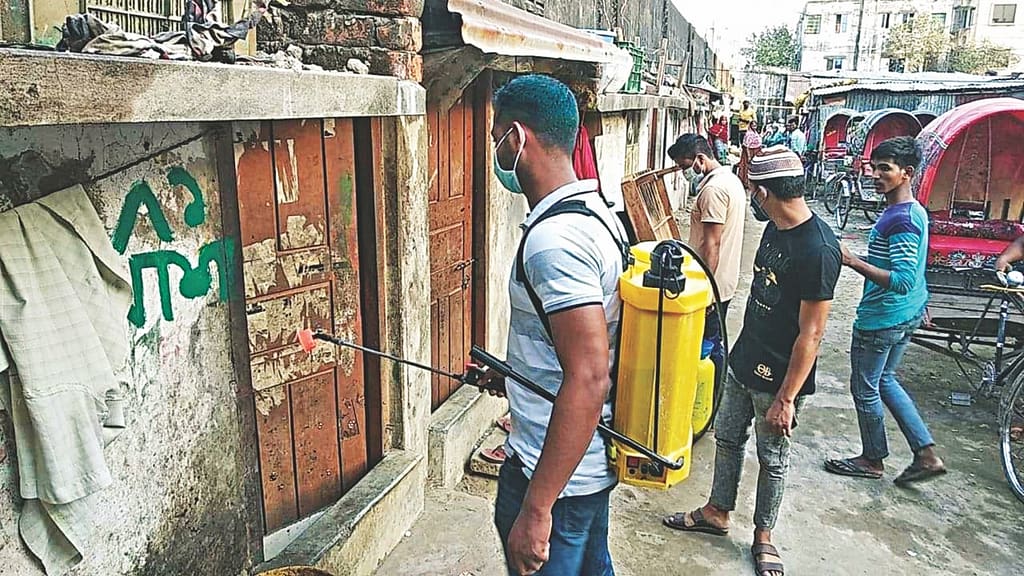 In such dire circumstances, several youth organisations in Chattogram are coming forward like rays of hope. They are raising funds, running awareness programmes and disinfecting poverty-struck areas to help out those in need as much as they can.
The activities are being carried out all across port city. For example, distribution of relief and hygiene items by youth organisations has been seen at Kazir Dewri, Alonkar Mor, Agrabad, Bakalia and Bayazid areas.
Sajid Kabir Saji, an organiser of youth platform "SomeWhereInEarth", said the organisation made 1,000 hand sanitiser bottles and masks for lower income groups to help them stay safe from the virus.
"We distributed these items over the last three days (near the end of March) and tried to raise awareness over the risk of going outside unless it's absolutely necessary," he said.
Amin Munna, a social worker who has been carrying out disinfection work along with other volunteers, said he and 40 others have joined hands to sanitise their Dakshin Madarsa area by spraying antivirus liquid daily.
What's more heartening is that the equipment that the band of youth are using for the disinfection work are provided by locals, who lent them their mobile irrigation machines. Munna and team use the machines to spray antivirus liquid made of bleaching powder all over the locality.
Other than them, at least 50 other youths were seen disinfecting streets and vehicles across Bakalia, Rahattarpul, Chawkbazar and Boro Mia Mosjid areas by spraying similar kinds of chemical solutions.
Md Munir Uddin Chowdhury, organiser of the initiative, said they were disinfecting one area each day and handing over masks to rickshaw pullers and auto rickshaw drivers.
See Original News article on The Daily Star